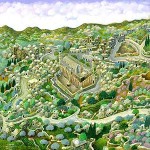 All our prayers – from wherever we may be – ascend on high through Ma'arat HaMachpela in Hebron.
Request a special prayer to be said at Ma'arat HaMachpela, or at the resting place of Rebbetzen Menucha Rochel, or both. Contact us now. Send us the details, and we will fulfill your request without delay. Remember to include your full Hebrew name and your mother's full Hebrew name along with the reason for your request.
The first verse of Judaism's most revered prayer, the Shemoneh Esrei, begins with a paragraph about our Avos (Founding Fathers): Avraham, Yitzchak and Yakov (Abraham, Isaac and Jacob) who rest in Hebron in Ma'arat HaMachpela.
To send us your prayer request fill in the spaces below.
When making a request that Hashem give us His blessing, it is customary to show Hashem that we are ready to be merciful by making a donation to charity. For your convenience, you can make a donation to Chabad of Hebron online.
The donation is totally optional. This is between you and G-d. We will do our part of fulfilling your request for a prayer regardless of the donation or the size of the donation.
For tax deductible credit card donations click below
Donate Today