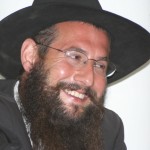 Shalom!
After 10 years on Shalichus here in Hebron, as well as recently turning 40, I got to thinking. Most of all, I thought about people like you, the great friends and visitors I had the pleasure of meeting and getting to know. Those of you who have supported Chabad of Hebron and whose hearts beat for the City of the Patriarchs.
I decided to tap into my more philosophical side, reach out to you all using the hi-tech tools the Creator has blessed us with, and share my thoughts from time to time. So in addition to our monthly(ish) enewsletter, I'll be trying to keep in touch with you all more personally. Here goes.
Holiness is Always Accompanied by Obstacles
Hevron can be depressing and joyous at the same time. I guess it is like the situation of our people until the days of Mashiach. On one hand, you cannot beat the holiness and energy that surround us. And at the same time, we are taught that Hashem created this world with freedom of choice – that's why holiness in this world is always accompanied by obstacles…and boy are there obstacles in Hevron.
It tears my heart out every day to see the border police surrounding the empty house that was purchased by Jews adjacent to the Machpeilah. They have all the legal documents to prove it but the house is "guarded" to make sure that no Jews enter. It's ridiculous and outrageous that 83 years after the pogrom of 1929 a Jewish government and defense minister are the ones preventing Jewish expansion in the 2nd most holy city in the world for the Jewish people. Mashiach will hopefully take care of the situation soon.
Look What You Did!
You, each in your own way, have made the impossible dream come true. Chabad of Kiryat Arbas dynamic new center – Bais Chaya Mushka – is nearly complete and the official opening in this August 7 (details to follow). You're invited…you're the guests of honor; because this simply would not have been possible without your support, encouragement, caring, interest, and inspiring visits. Children's programs, adult education, women's programming, community-wide shows and performances, spacious synagogue, and multi-media libraries for adults and children, and a new Chabad couple to oversee and run it, and the community has you to thank for it. See you at the grand opening!